Meals at Pineywoods are served cafeteria-style in the Dining Hall. As campers proceed through the serving line they can accept or decline any portion of the meal. In general, two or three hot food items are served at every meal as well as other self-serve options.
Meals are served at the following times:
Breakfast – 8:00 am
Lunch – 12:00 pm
Supper – 5:30 pm
Fruit, yogurt, and cereal are available each morning. A full salad bar is offered during every lunch and supper.
Our kitchen uses nuts, products containing wheat or gluten, eggs, dairy products, and other ingredients that contain allergens. We understand that this can be a medical issue, therefore the retreat menu is available upon request 2-3 days prior to the retreat. If needed, the GROUP LEADER should request the menu from the Reservations Secretary via email.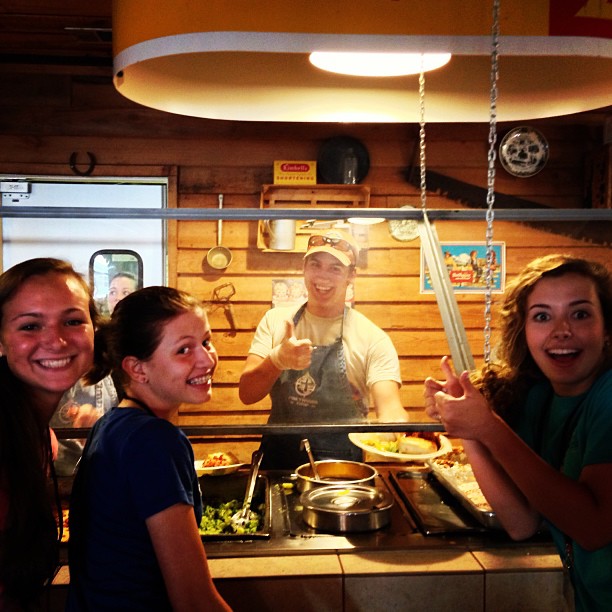 A camper with a food allergy that medically necessitates a special diet is more than welcome to bring his/her own PREPARED food to camp if, after reviewing the menu, it is determined that he/she cannot eat some or all of the meals provided. Camp Staff will be glad to assist with storage and re-heating of prepared food but cannot prepare special meals for campers during their stay.
Have questions or need further information? Call the Pineywoods Office (936.642.1723).