WELCOME!!!  Thank you for visiting PINEYWOODSCAMP.COM!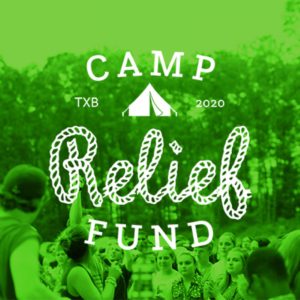 Summer 2020 is like no other. We ask you to consider donating to Pineywoods during this unprecedented time. A generous gift was given to Texas Baptists who set up a donation portal for you to help support Texas Baptist Camps. Until the funds are gone, your monetary gift will be matched dollar for dollar from the camp relief fund.
---
5/19/20 – To mitigate the risk of spread of the COVID-19 virus, the state's minimum protocols recommend small groups (AKA cohorts) that stay together the whole time and never mix with other groups during the camp session – not for worship, not for dining, not for recreation, and not for overnight lodging. This is simply not the Pineywoods summer camp experience, nor are there enough hours in a day to ensure that all church groups could eat, swim, and enjoy recreation each day in single groups. Nor does it factor in the large-group Bible study and corporate worship components of camp at all.
Although Governor Abbott has stated that Texas youth camps can open May 31st while adhering to health and safety protocols, out of an abundance of caution Pineywoods Camp maintains our previous decision in not hosting our traditional program camps this summer. Our program model is based on large assemblies and the combining of campers each week from 25-40 churches/communities across the state and beyond.
The health screening and disinfecting regimens are not the issues; we have no doubt that our staff and our individual church group leaders would do everything asked of them to clean and screen as required. Nonetheless, where control measures work in the workplace and other public spaces when widely observed by adults, "such protective measures that we can expect from adults are, for a variety of reasons, simply not possible for… children and youth to practice in… youth camps" (gov.texas.gov; Overnight Youth Camp Operators Minimum Standard Health Protocols, 5/18/20). Our setting is different. Our camp model is more like a rally or mass assembly. People come to summer camp TO FELLOWSHIP TOGETHER, TO PLAY TOGETHER, TO SEEK GOD AND STUDY HIS WORD TOGETHER.
We have begun to outline WHAT WE CAN DO THIS SUMMER. In an unprecedented way in an unprecedented time, we are hopeful that we can book retreats for individual churches during the summer months (as early as late June). We are currently working on the booking details and various required protocols for any group that would like to come to Pineywoods and run their own program. We are confident that we can host a minimal number of groups concurrently and schedule each in such a way that they do not mix with another. More details will be published very soon as such.
Thank you for your understanding and continued support of our decision to alter the summer camp norm in this unique time. We covet your continual prayers for this ministry as we navigate these uncharted waters.
Pineywoods Camp Management & Staff
---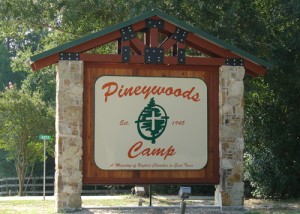 Pineywoods is a Christian camp and retreat center located in the piney woods of East Texas approximately 90 miles north of the George Bush Intercontinental Airport in Houston. We are a ministry of Baptist churches serving our region and beyond by hosting summer camps June to August and weekend retreats mid-August through May.
Feel free to Contact Us if you need more information than is available here. We look forward to your stay with us!!!!